Race 14 was the final race of the Welsh coastal series, which would decide the Global Displays Welsh Coastal Series. With 23 boat competing in Ireland for the Viking Marine Coastal Series, and 7 in Pwllheli, both coastal series have been well supported this year.
Leading up to race day, the forecast showed light north westerly winds, with a potential to reduce through the day and back.  After much discussion, the race committee set a 29 mile course from Pwllheli to the Westend mark, round St Tudwals Islands, Porthmadog Fairway and back to the finish via a turning mark at the south of the Westend.

With a steady 12-15kt breeze, the fleet got away cleanly for a fetch down to the west end before the reach down to St Tudwals. "Jackknife" lead the charge with "Sgrech J111" close behind. Round the first mark "Sgrech" elected to hoist an A5 which enabled a more direct course to the sound. Most of the fleet flew running A sails, but struggled to stay high enough to make the sound and had to revert to white sails close to the the islands. Once round St Tudwals West, a glorious 9 mile spinnaker run to Porthmadog, with just a few gusts to contend with, and crew working hard to stay high enough to lay the mark. It was great to be sailing in such fantastic conditions, with stunning views of Snowdonia and the Gwynedd coastline. This was very welcome after the previous three very wet and windy ISORA races, and a breezy IRC Nationals.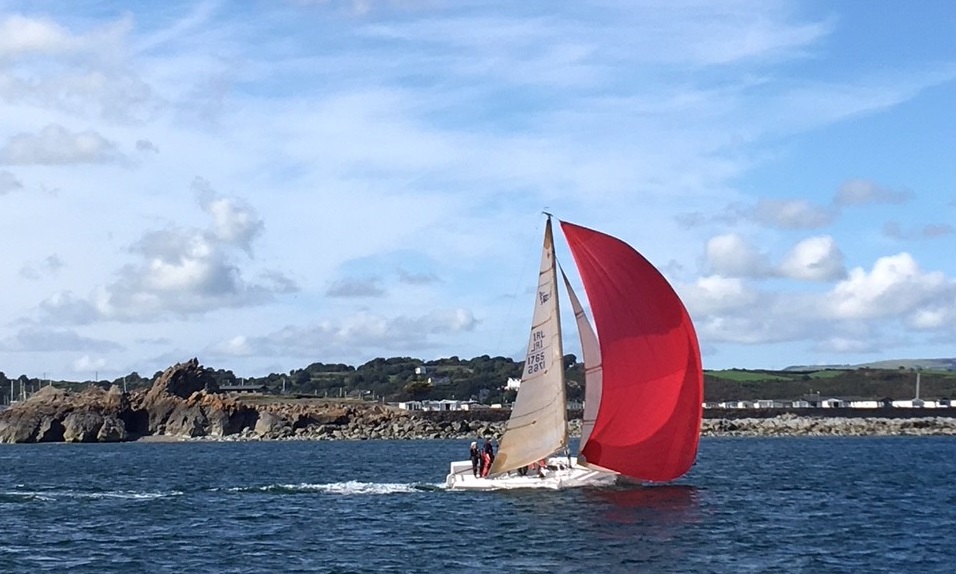 Cork 1720 "Mojito Bach" approaching the finish. photo by M Thompson
The whole fleet made great progress down this leg and were all very close on corrected time approaching the Madog fairway. Round the mark it was a beat back towards Llanbedrog, with crew working hard to utilise the many shifts, to attempt to stay close to the rhumb line. J109 "Jetstream" elected to take an inshore route and managed to make the mark with minimal tacks. Most of the fleet stayed out in the bay, with potentially more breeze, particularly as the forecast showed the wind dying during the afternoon. This never really happened and the wind stayed steady from the NW all day, giving  flat water but shifty gusts. Round the final mark, a reach to the finish along the Westend and south beach, under spinnaker, a great spectacle for the many holidaymakers on the beach with a couple of decent broaches!
J125 "Jackknife" took like honours with "Sgrech" close behind and winning class O but  it was "Jetstream" who took a fine overall win and class 1, after taking the inshore route.
Class 2 was won by "Hullabaloo Encore", and the final results gave the series win to "Jackknife" winning the midland bowl and becoming the Global Displays Welsh Coastal Series winners for 2018.
After racing crews gathered in Plas Heli to discuss the race and Andrew Hall generously filled the midland bowl with a very tasty punch for all crews to enjoy.
It was a great days sailing, and we now look forward to the the final race in two weeks time, the James Eadie 75 mile race from Pwllheli to Dún Laoghaire which will once again establish the 2018 ISORA overall series winner, to receive the much coveted wolfs head trophy.
Results at www.isora.org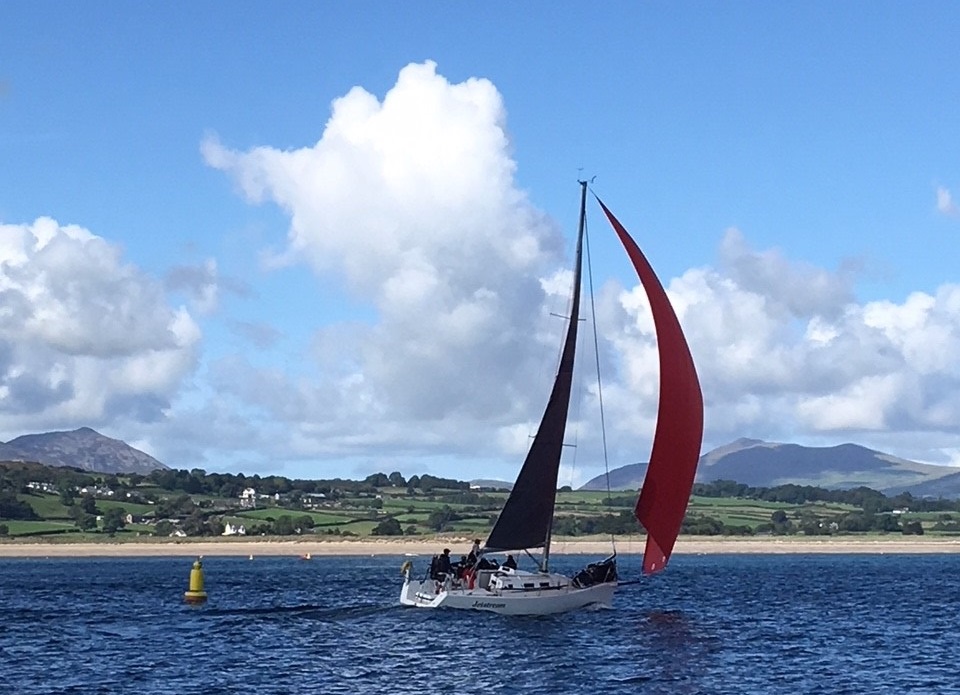 J109 "Jetstream" winning race 14 photo M Thompson
The race report is also in Y&Y here